Psycho- Social Cell Activities
COVID-19, a communicable disease, has instilled fears in the minds of the community because of severe morbidity, mortality and efficacy of high transmission. Therefore, anxiety to self-infection and passing the infection to friends, families and co-workers emerges as an emergency. The constant fears of getting the infection also lead to the development of mental stress. People with an already existing mental health condition may feel even more distressed, and there can be an increase in their problems.
Need for Psychosocial Counselling In Current Scenario
Certain stressors are particular to a different group of people within communities, such as families of vulnerable individuals and frontline workers. It is expected for affected (both directly and indirectly) individuals to feel stressed and worried. Some of these fears and behaviours are realistic, while many are just borne out of lack of knowledge, rumors and misinformation. Steps are needed to prevent social stigma and discrimination associated with COVID-19. Care has to be taken to promote the integration of people who have been affected by COVID-19 without over-targeting. While preventive and medical action is the most important, emergency psychological crisis interventions for people affected by COVID-19 are also critical. This includes direct interventions for patients and indirect for relatives, caregivers, and health care professionals. It will be essential to make a family member or primary contact of a COVID positive patient aware, provide correct scientific knowledge and provide psychosocial first aid in the form of emotional and mental support in a culturally appropriate manner. Additionally, since large-scale Intervention is the present goal of guidelines rather than just enhancing clinical care of few mental health professionals, a feasible and straightforward intervention was realized.
Basic Principles of Psychosocial Counseling
The counselor can use strategies to establish a good rapport with contacts and increase their motivation to change in terms of protective behaviors' and providing home-based care. Counseling should not be conducted in silos, and it should not be very structured because no two persons are identical. A client-centered approach should be used to address each person's needs individually.
Successful counselling aims to enhance the client's coping skills by bringing change in the decision making and behaviour changes specific to the crisis like the COVID-19 pandemic.
Encouraging safety, health and hygiene : There is a lot of confusing information available to the public right now. As a part of counselling, the counsellor can check what some measures of safety the client is taking are and help them with correct and reliable information along with its rationale. Secondly, the counsellor can emphasise the client focusing on taking care of the health of all family members by exploring first the methods the family is adopting and suggesting some options if needed.
Reducing immediate distress : The clients might come to the counsellor with high distress levels.It is helpful when a counsellor is calm, patient, introduce self and the purpose for counselling, listen attentively, paraphrases and summarises the concerns to the client. A counsellor can alsouse active listening and ask open-ended questions to explore the concerns more. In high distress situations, refrain from quickly jumping to provide a solution or moving away from the topic.
Normalise the worry and developing healthy ways of addressing worry : Help clients understand that feeling negative emotions are natural and that they are not alone in this can help normalise the worry. Few statements like "Understandably, you are overwhelmed with the situation", "I can see that you have been dealing with many worries about safety. Counsellors can help clients identify healthy ways of addressing these worries in the following ways
Identify what are some specific aspects of life when they worry more and see what makes other aspects less worrying
Explore if there are times when worry is more than during other times and what brings the difference?
Help them identify some steps they have taken to deal with worries and which ones have worked more than others. Also, explore if they know of some methods their loved ones use to take care of worrying
Highlight that all emotions like worry are transient and that they shall pass
Suggest them to practice methods that have worked for them and create more ways that are possible for them in their life context and based on their belief system
Suggest some research evidence-based methods like deep breathing, relaxation, mindfulness.
Take constructive steps towards solving life problems : Clients who come with worries about life problems can also be helped with identifying more realistic, doable strategies that can help them solve the problem. Identifying the problem, some possible solutions, testing the pros and cons of each, and identifying the most probable option can be effective.
Increase supportive communication in relationships : Help clients identify the importance of open and supportive communication methods in the family. Encourage them to acknowledge efforts over outcomes to reduce critical feedback and help them use more supportive words.
Help individuals cope better with their life challenges and suggest some appropriate ways to enhance coping.
Generate a sense of realistic hope : This can be done carefully without silver-lining any conversation. It helps when a counselor is realistic, calm and supportive, especially during difficult conversations
Counselling Skills
Counselling is a helping approach that highlights a client's emotional and intellectual experience,such as how a client feels and what they think about the problem they have sought help for. Effective counselling would need the following skills:
Attending : It is beneficial for a family when they are attended to patiently. Their concerns are heard and spoken to gently and with respect. Statements like "I am here to listen to you","I would like to know more about what your concerns are"
Active and carefully listening , "what person is saying" listen first to understand theirchallenges holistically.
Using open-ended questions like "What is going on in your mind?", "What about this situation brings worries to you?", "What are some things that you find helpful in dealing with this situation" help elicit client's information in a more detailed manner and helps them express themselves well. Additional close-ended questions with yes or no responses can be asked to seek clarity on specific issues.
Demonstrating empathy : Helping clients feel supported in these difficult and isolating times is essential in counselling. A counsellor can demonstrate empathy through statements like "I notice that this is an extremely challenging time for you and your family", "I notice your care and concern for your family through these steps you have taken". Through this, the counsellor can connect with the clients and provide emotional support.
Assuring confidentiality : Providing clear idea to the client about confidentiality and their conversations will stay confidential. It helps clients to open up about their worries. It must be explained to the client that their conversations will not be shared, recorded or used for any purpose with anyone by the counsellor. Only in times of risk to their life or the life of another personwill the counsellor, with the client's consent, share only the required details to an emergencycontact person or required authorities.
Using simple language : Counselling is more effective when the counsellor can communicate in a simple language with the client, use examples relevant to their life, provide strategies possible in exercise by the client and explain concepts in the language suited to the client.
Psycho-educating : This involves providing basic facts, information and reliable resources to the clients regarding their concerns. For COVID related information, they can be directed to resources like WHO, CDC, United Nations and Government of India. Ensure that you share information clearly, without any conflicting messages and politely check if the client has understood the information.
Assessing risks to safety and crisis management if required (through referral) : Assessing if the client is experiencing any thoughts about harming themselves, wishing that things were over, or has any suicidal ideations or plans, also checking if there are risks due to violence or abuse, any use of substances that might put the client in the way of risk in any way. Based on the risk assessment, ensuring that the safety of the client is prioritised.
Generating realistic hope and bolstering strengths : Every individual has an inherent ability to deal with life's challenges and cope with them. Providing false hopes can do more damage to a person than a difficult reality. Counsellors can also help clients identify their strengths, resilience and help them tap into their support systems. Statements likea. "We can try our best to stay safe and take all precautions to keep ourselves healthy", b. "I am not sure of the answer to your question, but I can look up reliable resources and get back to you", c. "What are some things you do or remember when you feel very low or beaten down" are hope generating yet realistic statements.
Specific Principles To Provide Psychosocial Counselling for Covid Positive Patients Considerations for Phone Counselling
I am Suresh from poolambadi.I got symptoms of covid 19. So I went to primary health center for covid 19 test.I got positive as result. So i feel very depressed. My family members feel very scared and depressed. As i belong to middle class family, I'm not having enough financial background to run my family. Iam the only person who earned for the family. Due to infection of covid myself affected physically , emotionally, economically and psychologically at the greater extent. My family members too affected. My close friends and relatives too not willing to help us due to above said so my dear friends who reading this kindly follow the instructions given by the government. Take necessary precautions
Psychosocial Counselling for Family Members/primary Contact of Covid Positive Patients
Emotional distress and anxiety are common during pandemics such as the COVID-19 outbreak. There is an understandably increase in concerns of the family member/primary contact about contracting the virus due to its highly contagious nature. It is important to ensure that the patient and other household members are techniques, limiting its spread. If you are counselling a caregiver for someone with COVID-19 at home or in a non-healthcare setting, follow this advice to protect yourselfand others. The focus of counselling should be to enhance self-care in overcoming accumulated stress and grief in providers and practice self-awareness.
The Counsellor Needs to Encourage Family Members or Contact the Patient to Identify the Issues and the Support System
Please do the following ,
Sleep hygiene- ensuring time for an adequate routine sleep cycle of 7-8 hours. - Avoid using electronic devices such as mobiles, laptops at least 2 hours before bedtime. The blue light from screens can interfere with melatonin (sleep producing hormone) production–making it difficult to fall asleep. If the use of the device is unavoidable, work in 'night light' mode. - De-stress before bed by taking a relaxing bath, reading or deep breathing. - Physical activity in the form of exercise or yoga - Deep breathing or progressive muscle relaxation - Fun family time and connecting with loved ones over phone calls - Scheduled time for work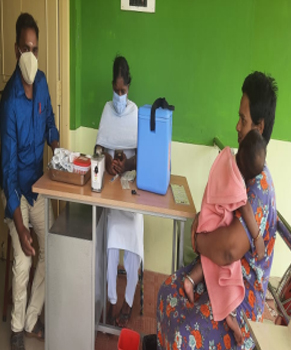 The counsellors (or their supervisors) need to liaise with the medical officers / local authorities in charge of these hospitals to ensure the amenities
I have symptoms of novel corona virus so, I have given a test. it came positive for me I cannot fear such pain both physically and mentally. In that time I got the full support of my family and my educational institutions. My family gave me more physical and mentally support. But they struggled a lot for financial support. Our educational trust gave me full medical care financially. Even though I was sick, my educational did not break off. Such support was given by my educational institutions and our staff. I isolate myself from other household members stay in the identified room and away from other people in home especially elder lies and those with co morbid conditions like
Hypertension
Cardiovascular disease
Renal disease etc…
I should at all times use triple layer. I take rest and drink lot of fluid to maintain adequate hydration. I frequently wash my hand with soap and water for at least 40 seconds or clean with alcohol sanitizer. Self monitor my health with daily temperature monitoring. I may fresh and unprocessed foods every day. I took proper medication as per doctor prescription.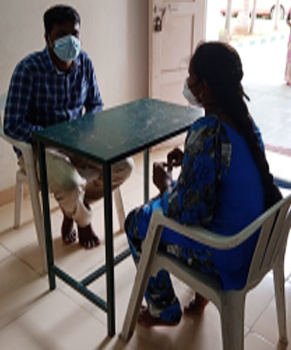 Conclusion
As of now, in March-2021, India currently has approved (EUA) two vaccines to prevent coronavirus disease,i.e. Covaxin and Covishield. Apart from vaccination, the best way to prevent illness is to avoid being exposed to this virus. The fear, spreading misinformation and grief about the disease creates mental health issues and anxiety amongst the close contacts. Hence systematically adhering to protective measures shall mitigate fear and anxiety. Understanding the complexities of anxiety and grief can be important for supporting patients, families, colleagues, and ourselves.
Psychosocial Support Service Cell (PSS Cell)
An initiative of Tamil Nadu Teachers Education University, Chennai, Tamil Nadu
| | |
| --- | --- |
| Name of the Convener | Dr.P.C. NAGA SUBRAMANI Convener, PSS Cell, TNTEU |
| Name of the Principal (Coordinator of PSS Cell) | Dr.K.SANTHAKUMARI |
| Name of the Institution | DHANALAKSHMI SRINIVASAN COLLEGE OF EDUCATION , PERAMBALUR |
| Address of the Institution | THURAYUR MAIN ROAD , PERAMBALUR |
| University Affiliated to | TAMILNADU TEACHERS EDUCATION UNIVERSITY, CHENNAI |
| District & State | PERAMBALUR & TAMILNADU |
| Contact Number of the Cordinator( WhatsApp Number) | 9443484779 |
| E Mail ID | dsce_bed@yahoo.co.in |
Proposed Activities Post COVID 2nd Wave
| | | |
| --- | --- | --- |
| # | AREA | COMMITTEE HEAD (FACULTY) NAME, CONTACT NUMBER, EMAIL |
| 1. | Hospital Management Team (Sharing the information of available beds/ventilators/vaccine) | DR.S.VEERANATHAN , 7373996171 veeranathanedu@gmail.com |
| 2. | Non Hospital Management Team (Sharing the information of NGOs for food distribution/Covid helpline numbers | P.ANANDHAN , 9865392793 anandhanthilaga@gmail.com |
| 3. | Family Related Team (Giving emotional support to Covid affected persons) | N.LAKSHMI , 9384123063 suriyaacs2004@gmail.com |
| 4. | Vaccine Awareness Team(To create vaccine Awareness to people) | P.RAMAKRISHNAN , 9626679906 ramakrishnangdr2012@gmail.com |
| 5. | Counselling Team (To give Counselling to affected persons/Panic Persons) | V.KOMAIL , 9976220221 mailtokomail@gmail.com |