ACTIVE PARTICIPATION AWARD – VAN MAHOTSAV– 2023 (15.08.2023)
We, the Dhanalakshmi Srinivasan College of Education, Perambalur honored by our parent university to Award of Active Participation of Van Mahotsav-Tree Plantation festival- 2023. By this movement, we have been raising the awareness about the importance of plantation and encouraged the people to plant more trees. As a pioneer college of our society we made the student-teachers utilized the Van Mahotsav moment in our campus and our adopted villages. On this pride movement, our NSS coordinator Mr. P. Ramakrishnan received the active participation award from our honorable Registrar and NSS Coordinator of Tamilnadu Teachers Education University, Chennai on 15th August 2023
SADBHAVANA DIWAS
On birth anniversary of our Former Prime Minister late Shri Rajiv Gandhi, We Dhanalakshmi Srinivasan College of Education following the celebration of Sadbhavana Diwas in our campus. The day was observed in our campus on 18th August 2023 to promote communal harmony and good will among the student-teachers. This was started by the significance note by the Principal on the importance of Sadbhavana Diwas. The student-teachers then took a pledge to uphold the value of peace, tolerance, and understanding. This was well–received by the student-teachers and faculty members. We strongly believe that Sadbhavana Diwas was successful event that helped to promote communal harmony among our student-teachers in our campus.
DRUG ERADICATION DAY 11 AUGUST 2023
Dhanalakshmi Srinivasan College of education has been conducted drug eradication day on 11 August 2023 in our college campus. Our honorable chief minister has planned to create a world Guinness record by making rally with 1 Crore students along with NSS for creating awareness of drug eradication. For the part of this mega rally we the Dhanalakshmi Srinivasan College of Education also participated to this event, Dr. K. Santhakumari, Principal of our college initiated this rally with significant note and teaching faculties also participated and encouraged the students to create the awareness on using drugs and its harmful effects to human and make them fit by gave the social tips to eradicate the drugs from our routine life. Oath was taken by the students against eradication of drug usage. Our NSS coordinators Mr. P.Ramakrishnan and Mr. R. Anand organized this Mega Rally.
VAN MAHOTSAV – 2023 ANNUAL TREE-PLANTING FESTIVAL
Van Mahotsav, also known as Vanamahotsava, is an annual tree-planting festival celebrated in India in the first week of July. It was started in 1950 by K. M. Munshi, Union Minister for Agriculture and Food, to create enthusiasm among masses for forest conservation and planting trees. The aim of the festival is to raise awareness about the importance of trees and forests, and to encourage people to plant more trees. NSS wing of our Dhanalakshmi Srinivasan College of Education organized this Van Mahotsav which gave to knowledge about the trees which providing pure oxygen which is essential for human survival, helps to regulate the climate and reduce air pollution, absorb rainwater and prevent soil erosion, provide habitat for wildlife and add beauty to the landscape. Our student-teachers utilized this great opportunity for themselves and to come together and make a difference for the environment. Mr. R. Anand and Mr. P.Ramakrishnan coordinators of NSS unit of our college conducted this Van Mahotsav in our campus. Overall 50 student-teachers participated and planted 50 saplings in our campus. Further the student-teachers have to protect the plants and emphasized pouring water by the gardener.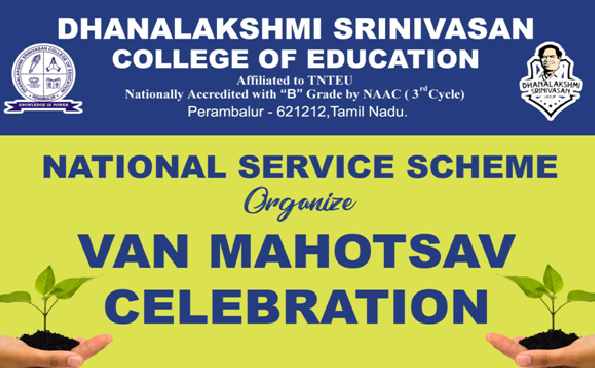 World Drug Abuse And Trafficking Day
Dhanalakshmi Srinivasan college of Education, National Service Scheme (NSS) wing conducted a program on World Drug Abuse and Trafficking Day which is an annual observance held on June 26, to raise awareness of the global drug problem and its impact on individuals, families, and communities. The theme for 2023 is "People First: Stop Stigma and Discrimination, Strengthen Prevention." This program was organized in our adopted village Chettikulam panchayat. Awareness rally conducted with powerful slogans by our student-teachers and rally covered up in local public, bus stand, and market. Followed by rally, our student- teachers were met the labors of 100 days scheme and made them personal talk about drug abuse and its impacts by physically and socially. The world drug problem leads a complex issue that affects millions of people worldwide and usage of drug can lead to a number of health problems, including addiction, overdose, and HIV/AIDS. It can also have a negative impact on social and economic development and social isolation were also included in that awareness rally. Overall 108 student-teachers and 10 faculties were participated along with president of the village and 700 local public and 65 laborers from 100 days scheme were benefitted by this programme. Overall programme organized by the NSS coordinators Mr. R. Anandh and Mr. P. Ramakrishnan.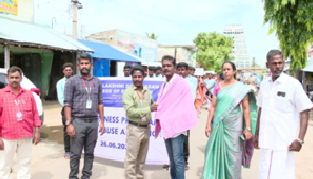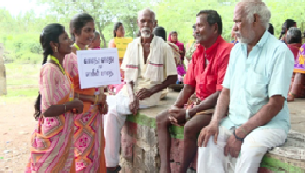 International Yoga Day 2023
Yoga for Vasudhaiva Kutumbakam is the motto of International Yoga day 2023 conducted by our NSS wing of college on 21st June 2023 at 10 -11 am in our playground. Resource person Guruji. Yogaratna P. Krishnakumar from Shanthi Yogalaiya, were given the opening remarks and extended to introduction and benefits of practicing yoga in our day to day life. Instructor were given the demonstration of various yoga poses and made them practice of yoga poses. During this program the instructor has very enthusiastic about yoga to practice and very knowledgeable on it. The atmosphere was relaxed and welcoming. Our student-teachers were reported after practice which feeling more relaxed and energized. Our student-teachers were expressed that they learned new yoga poses and they would recommend yoga to others to practice for maintain good life style. Our teacher community recommends this event to anyone who is interested in learning more about yoga or who is looking for a way to relax and improve their overall health. Overall 150 student-teachers were participated and benefitted by that yoga celebration.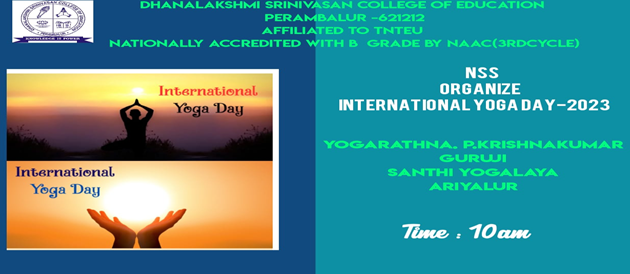 World Environment Day 2023
Awareness Rally
"Save earth" is the main motto of us to conduct the awareness rally on world environmental day 2023. By strictly following the news from the UNO "BEATPLASTICPOLLUTION", our student-teachers made slogan on save earth from all hazards especially dangerous impact of plastics to our day-to-day life. Our student-teachers made slogan on
Act Now, Save Tomorrow!
Green Today, Clean Tomorrow!
Our Planet, Our Responsibility!
Reduce, Reuse, Recycle! And
Let's Make a Change, For a Better Planet!
In total, 200 student-teachers participated and local public in Keelakanavai village benefitted.
Tree Plantation
The biggest international day for the environment is World Environmental day which is pursued by our Dhanalakshmi Srinivasan College of Education on 5th June 2023. World environment day 2023 will showcase how our country and individuals are learning to use the material more sustainable. By protecting the environment our student- teachers initiated tree plantation associated with local public in Keelakanavai village and insists the biological role of the trees on filtering the air for breathing, saving of rain water by no cost was also explained.
Cycle Rally
On following international environmental day on 5th June 2023, our student-teachers made trail on cycle rally to make awareness about need of protection of our environment.
Cleanliness In The Boundaries of Pond
Our student-teachers made slogan which made the villagers aware about protection of environment. Our student-teachers strictly following the same which mentioned in UNO and by extending that, they are actively done by cleaning a pond which is located in Keelakanavai village, namely "Keelakanavai Yeri" located nearby our college in Perambalur district. As per the report by the UNO, more than 400 million tones of plastic is produced every year, half of which is designed to be used only once. Of that, less than 10% is recycled. Among that an estimated 19-23 million tones end up in lakes, rivers and seas. By raising powerful slogan on air pollution and its toxic effect which leads to awareness of emission of Carbon-di-Oxide to the public, importance of plantation, need and significant of protecting ponds, lakes and water resources and avoiding plastics in any form in our day-to-day life have been focused.
World Earth Day
A student awareness rally was held in 22nd April 2023 on the occasion of World Earth Day. On behalf of a NSS Volunteers in DSCE, Perambalur, a rally was held from Senjeri to emphasize the importance of environment on the occasion of International Earth Day. The students who participated in this created awareness among the people by carrying placards with slogans to protect the environment and dressing up as the Earth Tree.
INTERNATIONAL FOREST DAY – PLANTING SAPLING
International forest day was organized by college on 21st march 2023.on this event our NSS wing planted sapling in our campus. Student teachers were encouraged to planting the sapling in our campus before starting our principal gave the significant talk on international forest day and the need of planting the sapling in our campus by the NSS wing of our college.
INTERNATIONAL FOREST DAY - RALLY
International forest day was organized by our group of institution on 21st march 2023.We,Dhanalakshmi Srinivasan college of education participated rally of Institution from collect orate to government hospital Perambalur which cover around 4km. our college student teacher gain alter form to the public with powerful slogans throughout the rally previously our honorable chairman ayya and with the collector madam, started the rally with Superintendent of police,Perambalur and other government forest officers. 250 student teacher and the faculty members from our college of education participated and significant amount of public around the local area in Perambalur got benefitted.
CANCER AWARENESS PROGRAMME
A Rally 'Cancer Awareness Programme' organized by NSS on 4th February 2023, for the purpose of creating awareness of Cancer among the people in Chetticulum. The event was aimed at raising awareness about the disease so that millions of deaths caused by it every year can be prevented. It is observed in the present scenario that People are vulnerable to tobacco abuses of smoking, chewing tobacco and many such other kinds. It is estimated that smoking accounts for about one-third of all types of cancer, including 90 percent of lung cancer cases. Smokeless tobacco such as chewing tobacco and snuff also increases the risk of cancer, especially oral cancers. Both behavioral interventions like counseling and medication can help addicts quit their habit.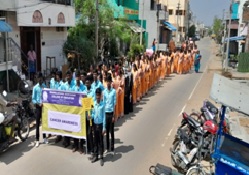 TREE PLANTATION
The NSS Unit organized "Tree Plantation" program on Friday, 4th February, 2023. Sapling in the Sivan temple located at Chetticulum Panchayath. In the presence of NSS Coordinator, Student teacher, Principal, Faculty Members to plant sapling and passionately initiated the sapling along with our student-teachers. NSS Volunteers were participated and benefitted by this Program.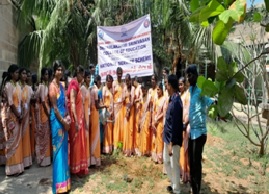 BEST ACTIVE PARTICIPATION AWARD
As per the Parent University instruction, a part of celebration of 74th REPUBLIC OF INDIA, our NSS coordinators organized the various activities from October-December 2022, our NSS volunteers participated in various activities. The university honored and declared to the BEST ACTIVE PARTICIPATION AWARD to our NSS coordinator and the award received from Dr. Nadesan, Principal, Arts & Science College –Karur and Syndicate member on 26th January 2023.
NATIONAL VOTERS DAY
Our College and NSS volunteers has organized National Voters Day Celebration on 25-01-2023 at college premises. The objective of the program was to inculcate constitutional obligations among students, to create awareness about Universal Franchise, to sensitize the students about importance of voting. The program was started at 11:00 am. The student read the voter's day pledge and helped the staff and students to take pledge. The outcome of the program was Students and staff understood the importance of right to vote and Students and staff were took constitution day oath.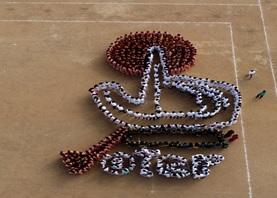 AWARENESS PROGRAMMED ON HEALTH INSURANCE
The awareness of health insurance is growing day in day out with governments schematize insurance policies for everyone. Create on the awareness level of health insurance among the college students we incited Mrs.R. Nivetha, Manager India Post Payments Bank Perambalur. She Explained about the details of accident insurance. • Health insurance • Term insurance • Guaranteed Pension Scheme
NSS PROGRAM
The NSS Unit organized "Tree Plantation" program on Friday, 25th November, 2022. Sapling in the Government Higher Secondary School campus located at Velur Panchayath. In the presence of Headmaster, School teachers, President of Panchayth in velur , Principal, NSS Coordinator, Faculty Members Physically Challenged Students from the schools encouraged to plant sapling and alumni of our college working BT assistant in school passionately initiated the sapling along with our student-teachers. School students, NSS Volunteers were participated and benefitted by this Program.
Best Active Participation Award
As per the Parent University instruction, a part of celebration of 75th INDEPENDENCE DAY AZAD KA AMRIT MAHOTSAV, our NSS coordinators organized the various activities from 1st august -14th August 2022. our NSS volunteers participated. The university honor and declared the BEST ACTIVE PARTICIPATION AWARD the our NSS coordinator received the award from Honorable Vice-Chancellor on 15th August 2022.
NSS
Cleaning Campaign
Celebrate on the Birth anniversary of Dr. Kalaingar Karunanithi, 3rd June 2022, we had our campus cleaning by our NSS volunteers. Clean Campus promotes Hygiene, It improves hygiene level in campus and also helps to reduce the spread of sickness, maintaining a clean college environment sets a good example to students. Cleanliness encourages learners to take pride in their college, which makes them less likely to drop litter and as such they will potentially make a bigger effort to maintain their environment. Cleanliness gives rise to a good character by keeping body, mind, and soul clean and peaceful. Maintaining cleanliness is the essential part of healthy living because it is the cleanliness only which helps to improve our personality by keeping clean externally and internally.
World Environmental Day 2022- Only One Earth Awareness Program
On the celebration of world environmental day 2022, NSS AND YRC volunteers participated the awareness program with the theme of ONLY ONE EARTH. Student teachers were insists the public to planting trees and also importance of using alternate energy resources of solar energy. Students-teachers were actively participated and were clarified the doubts on solar energy from the public.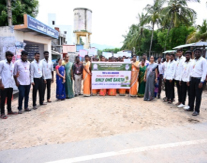 World Environmental Day-planting Tree
On 5th June 2022, our parent university, (TNTEU, Chennai) conducted a planting tree program by insisting world environmental day 2022. Our student-teacher actively participated and engaged themselves to plant tree as per the guideline from the university.Selfie with planting tree posted and received the certificate from the parent university.
Our Green Decisions – Show Case Your Campus Video
In response to the call given by MGNCRE to conduct activities on the occasion of World Environment Day – 5th June 2022, we have chosen the activity "Our green Decisions – show case your campus video". We took the initiation and motivated the students of student-teachers of our college of education to actively participate in the event. We did a survey and chosen seven places as convenient for outdoor classrooms. After a discussion with the student-teachers we have chosen opt spot for the implementation of the activity.
Student teachers was listened to the concepts with much more interest in producing the video clipping of green campus. Student-teachers enthusiastically participated with open-minded