AWARENESS PROGRAMMED ON HEALTH INSURANCE
The awareness of health insurance is growing day in day out with governments schematize insurance policies for everyone. Create on the awareness level of health insurance among the college students we incited Mrs.R. Nivetha, Manager India Post Payments Bank Perambalur. She Explained about the details of accident insurance. • Health insurance • Term insurance • Guaranteed Pension Scheme
NSS PROGRAM
The NSS Unit organized "Tree Plantation" program on Friday, 25th November, 2022. Sapling in the Government Higher Secondary School campus located at Velur Panchayath. In the presence of Headmaster, School teachers, President of Panchayth in velur , Principal, NSS Coordinator, Faculty Members Physically Challenged Students from the schools encouraged to plant sapling and alumni of our college working BT assistant in school passionately initiated the sapling along with our student-teachers. School students, NSS Volunteers were participated and benefitted by this Program.
Best Active Participation Award
As per the Parent University instruction, a part of celebration of 75th INDEPENDENCE DAY AZAD KA AMRIT MAHOTSAV, our NSS coordinators organized the various activities from 1st august -14th August 2022. our NSS volunteers participated. The university honor and declared the BEST ACTIVE PARTICIPATION AWARD the our NSS coordinator received the award from Honorable Vice-Chancellor on 15th August 2022.
NSS
Cleaning Campaign
Celebrate on the Birth anniversary of Dr. Kalaingar Karunanithi, 3rd June 2022, we had our campus cleaning by our NSS volunteers. Clean Campus promotes Hygiene, It improves hygiene level in campus and also helps to reduce the spread of sickness, maintaining a clean college environment sets a good example to students. Cleanliness encourages learners to take pride in their college, which makes them less likely to drop litter and as such they will potentially make a bigger effort to maintain their environment. Cleanliness gives rise to a good character by keeping body, mind, and soul clean and peaceful. Maintaining cleanliness is the essential part of healthy living because it is the cleanliness only which helps to improve our personality by keeping clean externally and internally.
World Environmental Day 2022- Only One Earth Awareness Program
On the celebration of world environmental day 2022, NSS AND YRC volunteers participated the awareness program with the theme of ONLY ONE EARTH. Student teachers were insists the public to planting trees and also importance of using alternate energy resources of solar energy. Students-teachers were actively participated and were clarified the doubts on solar energy from the public.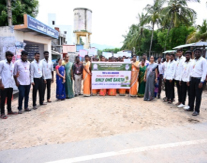 World Environmental Day-planting Tree
On 5th June 2022, our parent university, (TNTEU, Chennai) conducted a planting tree program by insisting world environmental day 2022. Our student-teacher actively participated and engaged themselves to plant tree as per the guideline from the university.Selfie with planting tree posted and received the certificate from the parent university.
Our Green Decisions – Show Case Your Campus Video
In response to the call given by MGNCRE to conduct activities on the occasion of World Environment Day – 5th June 2022, we have chosen the activity "Our green Decisions – show case your campus video". We took the initiation and motivated the students of student-teachers of our college of education to actively participate in the event. We did a survey and chosen seven places as convenient for outdoor classrooms. After a discussion with the student-teachers we have chosen opt spot for the implementation of the activity.
Student teachers was listened to the concepts with much more interest in producing the video clipping of green campus. Student-teachers enthusiastically participated with open-minded