Oath Taken on Respect Elders
International respect elders' oath was taken by student teachers on 15th June 2022. Dr. K. Santhakumari, Principal, DSCE explained about the significance of taken this oath now a day. After a short talk of our principal, the oath was taken. Dr.T. Kabilan initiated the oath followed by him; student-teachers did the same. Respect elders in our home, society, public places, especially in banks, public transports, shopping malls and in our routine life were mentioned in oath. Student-teachers were enthusiastically taken the oath and they assured strictly follow the oath and respect elders in our life. Along with student-teachers our staff members also participated to take the oath.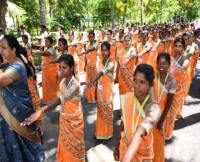 National Unity Day
National Unity Day 2019 is being celebrated on 31st of October, Thursday by the people all over India. It is celebrated as 144th birth anniversary of Sardar Vallabhbhai Patel.The day is observed to commemorate the efforts of Sardar Patel in the integration of post independence Indian dominion. This year National Unity Day was celebrated on Thursday, 31st October. The Student Teachers Organize Pledge Taking Commemorate "Rashtriya Ekta Diwas" at 11.AM on 31.10.2019 in the College Campus.