PONGAL CELEBRATION
Celebrated Pongal on the 9th of January for the year 2023. The students arrived in traditional dhotis and sarees to mark the occasion. The celebration started around 9:30 a.m. The entrance decorated with colorful Rangoli for the students to celebrate the Recent issues on ICT forms. Samples of Pongal festival to illustrate its appearance The was arranged by the Student teachers It was an ambience filled music, dance and the joyful faces reverberated with big smiles. Pongal was prepared by the Student teachers and staff members. The ceremony was inaugurated by lighting by Thiru. A.Srinivasan, Chancellor Group of Institution and the Chief guest Mrs.NiraimadhiChandiramogan, Revenue Department Officer Perambalur. crowd cooed 'pongalo pongal' to express oneness. A traditional game Conducted 'Kayaru illuththal', Music chair, Lemon with spoon, Paloon Udiththal, Water filling, 100 mtr Running, Sillamppatam, Folk dance, karagam, western dance. Sweet Pongal and sugarcanes were distributed to all the students. The day came to an end with the announcement of the prize winners for the Competition.
Model appearance of the pongal
Rangoli Competition
Pongal festival
Music chair competition
Lemon with spoon Competition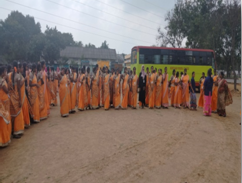 Paloon udaiththal Competition
100 mtr Competition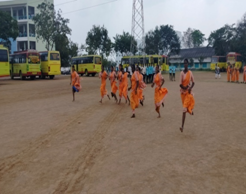 Water filling Competition
Silambatam
Lucky Game
Cultural
Pongal Celebration
Pongal celebration has been conducted on 9th January 2020 in our colleges. Student teacher's, faculty and officials turned cooks at colleges and offices as they lit fire and cooked pongal to usher in the crop festival. They went dressed in dhoti and saree that completed the festive mood by creating the traditional impression. A release said that the college chairman led the celebrations. Members of college management, faculty and student teacher's participated in traditional dress in the celebrations, where pongal was cooked.The students danced karagattam and performed.
Thai Pongal festival has been celebrated by Dhanalakshmi Srinivasan College of education's the pupils on 13.01.2019 in DSCE. Honorable chief gust founder - chairman arrived and celebrated together with the pupil. At the same time cultural and verity of competition has been conducted by pupil.