ALUMNI
Alumni meet has been conducted on 23.12.2017; few former students have been participated for share occurrence to other and gave tips for success contribute study material for library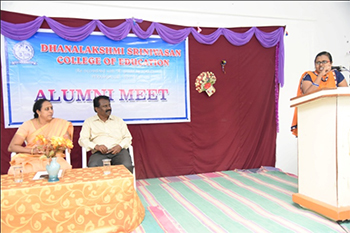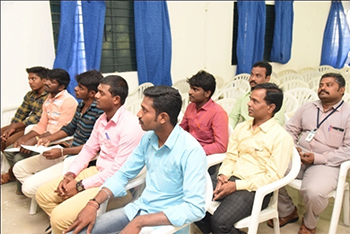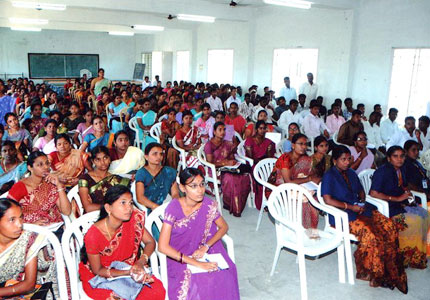 OBJECTIVES


To encourage the present day students to become effective teachers by organizing seminars,
workshops and national conferences.


To bring together the ex-students of the college as often as possible for there mutual benefits
and for the benefit of the college.


To create funds and arrangements then for

Helping needy people

Honoring teachers for their instruction.

Promoting Education.

Carrying on Social Welfare activities.


To Co-operate with other Associations in the larger interest of education.
ALUMNI ASSOCIATION
M.Manikandan - President

S. Poyyamozhi - Vice President

P.Rajendran - Secretary

P.Pugalendhi - Joint Secretary

P.Ramesh - Treasurer

C.Manimaran - Executive Committee

P.Ravikumar - Executive Committee

S.Balasubramanian, - Executive Committee

N.Lakshmi - Executive Committee

ACTIVITIES
We conduct our Alumni meet on a regular basis to help our members of our college. It plays a key role in basis to help our members stay connected with the Dhanalakshmi Srinivasan tradition. Special programs are conducted to pool our resourceful Alumni members to the benefit of the student community. The Alumni are considered to be the asset of our institution. Their contribution is very essential for the development of the institution and the activities of the association are summarized as:
Knowing the status of the Alumni and offering suggestions according to their status.

Passing the resolutions of the Alumni of the institution regarding their future plans.

Providing job opportunities to the students who studied in the institution.

Helping the present students who are poor with the help of the Alumni who are in
higher positions.

Conducting Guidance to the present students about the recent employment trends with the
help of the Alumni.

Guest lectures by the Alumni on various topics. (Related to Technology, TLM, New Trends, etc.)

Giving guidance and counseling for the higher studies of the students.
TOP 10 ALUMNAE
S.No.
Stage / Level
1.
Mr.R.Karthick, M.Sc.,B.Ed.,
P.G.Assistant,
Govt.Higher Secondary School,
Kunnam,
Perambalur(Dt)
2.
Mr.V.Velmurugan, M.A.,B.Ed.,
P.G.Assistant,
Govt.Higher Secondary School,
Labbaikudikadu,
Perambalur(Dt)
3.
Mr.V.Vimal, M.Sc, M.Ed.,
P.G.Assistant,
Vanpugal valluvar Higher Secondary School,
Asoor,
Perambalur(Dt)
4.
C.Muthamilselvi,M.A.,B.Ed.,
Govt.Higher Secondary School,
Irrur,
Perambalur(Dt)
5.
Mr.P.Balamurugan,M.Sc.,B.Ed.,
B.T.Assistant,
V.Kaikattai,
Perambalur (Dt)
6.
P.Maheswari,B.A.,B.Ed.,
B.T.Assistant,
Govt.Higher Secondary School,
Keelapalzur,
Ariyalur (Dt)
7.
Mr.S.Saravanan,B.Sc.,B.Ed.,
B.T.Assistant,
Govt.Higher Secondary School,
Melapuliyur,
Perambalur(Dt)
8.
Mr.P.Pugalenthi,B.A.,B.Ed.,
B.T.Assistant,
Govt.Higher Secondary School,
T.Kalathur,
Perambalur(Dt)
9.
Mr.S.Srinivasan,M.A.,B.Ed.,
B.T.Assistant,
Govt.Higher Secondary School
Pennagaram,
Dharmapuri(Dt)
10.
Ms.N.Nargees Banu, M.A.,B.Ed.,M.Phil.,
B.T.Assistant,
Dhanalakshmi Srinivasan Arts and Science for Women,
Perambalur(Dt)