ANNUAL PROGRAMME FOR 2015– 2016
DhanalakshmiSrinivasan College of Education 12th Inaugural function conducted on 09.09.2015. Founder chairman Shri.A.Srinivasan Sir, Presided Over the function and delivered presidential address. ShriP.Neelraj Secretary also Presided Over the function, Dr.K.Santhakumarai, Principal Dh analakshmiSrinivasan College of Education , Welcome the gathering, Chief Guest Dr.T.Neelakandan MBBS.,MD., Medical Superintendent,DhanalakshmiSrinivasan Medical College and Hospital, Perambalur. Delivered special keynote address.P.Anandhan,Vice Principal delivered the vote of thanks.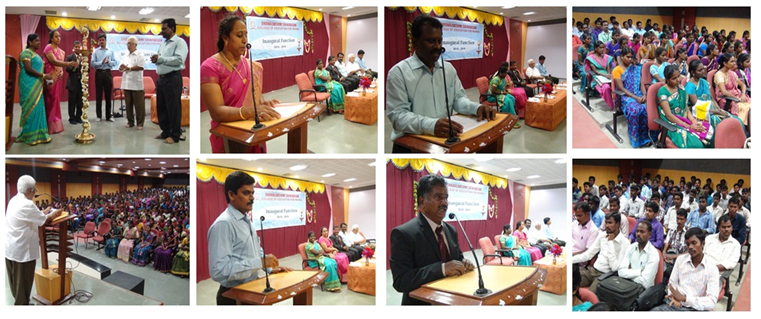 BLOOD DONATION 2015-2016 - 06.11.15

By having connection with Dhanalakshmi Srinivasan Medical College, Perambalur& Government Hospital, Perambalur and TamilNadu State AIDS control society our college is doing provision to the society by conducting Blood Donation Camp. The camp was conducted on 06.11.15. 46 Student Teachers and 8 staff members donate their blood. Principal was appreciated by and State Blood Transfusion Council.
YOGA – 10.12.15

Dr.A. Karthick, Asst. Professor, Annamalai University Delivered a Special lecture on 10.12.15about "Yoga and Benefit of Natural Food". He briefly explains about the yoga and its importance to the students – Teachers, simple exercise to practice and to keep the body in healthy condition. He also emphasized on the natural food and organic foods items which keeps the body in balanced state. A sound mind in a sound body is the main motto of this programme.
LIFE SKILL PROGRAMME -14.12.15

Dr. Rajendran delivered the speech on 14.12.15 about the "Interview Procedure", He explained how to face a interview board to the student-Teachers. He also explained the different types of resume format to forward to the institutions and Communication skill.
Dr. Vengateswaran Principal, PRUCAS, Idappadi Salem, on 14.12.15 , About the " Proficiency development". He explained about qualities of teachers, the do's and don'ts in the Teaching profession. He also discuss about the skills in Teaching, and few ideas to prepare teaching aids .
SELF DEVELOPMENT-YOGA PROGRAMME – 08.01.16

SDYP was conducted on 8.1.16, invited Dr.P.Senthilkumar, Principal, Dhanalakshmi Srinivasan College Physical Education, Perambalur, delivered the valuable Speech related to the topic "Self Development – Yoga ", to create an awareness of yoga and its importance to the prospective teacher educators. He demonstrated the asana for the view of the prospective teacher educators and then imbibing all the asana and exercise for self-development and it useful to teach these exercise to the students of co-operative schools.
Research Development Program

RDP was conducted on 13.1.16, invited Dr.K.Anandhan, Professor& Head, Department of Education, Bharathidasan University, Trichy,delivered the valuable Speech related to the topic "Communication skills- Expository Writing", Initiate the Prospective Teacher Educator (M.Ed) to start the research work effectively. He briefly explained about Initiation of dissertation work and a selection of a problem or topic and also discussed about how to write the conceptual framework to the selected problem and present in the form of seminar for discussion. Research oriented ideas scientific attitudes were initiate to the prospective teacher educator (M.Ed). He also presented and how to start the research work, selection of the problem, formatting the objectives, hypothesis, research design, the data collection for the preliminary work. A deep knowledge on various chapters was given for further proceedings.
Science Day Celebration

The Science day was celebrated on 28.2.2016. Mr.S.Ariventhan from Nehru memorial Hr.Sec.School, Eraiyur. An Eminent personality was invited as chief guest. He Delivered a valuable speech about three concepts like the origin of science day- in the remembrance of Sir C.V.Raman. The importance of masimagam - Which was celebrated once in 12 years due to the revolution of plants and the celebration of pie day(Ï€-22/7) - which is on 14th march. He also emphasized on the shortcut method and correlated studies to students-teachers to learn science.
CITIZENSHIP TRANING CAMP –14.03.2016

The citizenship training camp commenced on 14.03.2016, Monday in our college campus. The inaugural function started sharply at 10'o clock. The principal welcomed thegathering. The founder –chairman delivered the presidential address. Mr.PaulKunaloganath, Social Worker, Snegham Trust at Trichy.delivered a special key note address, ThiruDr. S. Thayumanvan offered his felicitation. The students' representative delivered the vote of thanks.
Second Session 14.03.2016

The second session was chaired by N.ThaiyalNayagi, Counsellor in Special Education, Holy Cross college. Trichy.She gave a lecture on "Student's Role in Social work". It is followed by student's cultural programme.
15.03.2016

The second day ,the Camp was started with flag hoisting at 8.00. am. and it is followed by the exercise. Food Festival was started at 10.00. am, it was preceded by The HOD,Food and Management Department from Srinivasan Arts and Science College,Perambalur. Different delicious dishes were displayed and prizes were announced at end of the day.
15.03.2016 Afternoon

The second session was started at 2.00p.m.TheSpecial speech on"Elakiyamum Nagaichuvayum"was delivered by Dr.Kalidas, TamilvelUmamageswaranarKaranthai Arts College, Tanjore. He explain the need of quality teaching and he quoted with examples from the famous tamil poet.
VISIT TO HUMAN UPLIFT HOME(AIDS affected children) AT SENJERI

Our Students teachers visited the human uplift home and they donate Stationary Items, snacks ,biscuits for the children's in the home at Senjeri
CLEANING ACTIVITIES IN VENGANUR SIVA TEMPLE

As a student teachers must know the environment around us how to keep our surrounding clean. It is a part and part of their practice so our student teachers participated the Cleaning activities in Veganur " ViruthajaleswaraAlayam"
VISIT ON QUARRY RENGANATHAPURAM

Our students were participated in awareness programme for the quarry workers in Renganathapuram village. And they asked questions about the quarry people about the work nature and problems faced by their life.
MEDICAL CAMP – 16-03-16

Medical Camp was conducted by our college in Keelakanavaai, Perambalur District on 16-03-16 with the assistance of DhanalakshmiSrinivasan Medical College, Siruvachur, Perambalur. Students got great opportunity to do good deeds to the society. People were given better treatment and they were given counseling. Our hospital doctors have follow-up with them.
CONFERENCE

National Conference was held on 6th April 2016. The founder –chairman delivered the presidential address, The Resource Person, Dr.Mumtaz Begum, Associate Professor, School of Education, Pondicherry University, delivered the Inaugural speech and Special speech address about Teacher Education through Partnerships and Collaborative Learning Communities and Dr.K.Anandan Professor and Head, Department of Education, Center for Distance Education, Bharathidasan University, Trichy gave Special speech about the technology uses in classroom and delivered the Valedictory address and more than 210 research and thematic papers published in our souvenir , afternoon session the participants from various state and various bed college presented their paper and distributed the certificates to the paper presenter.
A well planned and systematic National Conference was conducted with the eminent and excellent experts of different universities and colleges by presenting research papers in co-operation with the university and organizations.
CONVOCATION – 11th Graduation day – 04.06.2016

Dhanalakshmi Srinivasan College of Education 11th Graduation Day was conducted on 04.06.2016 Founder Chairman Shri. A. Srinivasan Sir, Presided over the function and delivered presidential address. Shri S. Kathiravan, Vice - Chairman also Presided over the function. Dr. K. Santhakumari, Principal Dhanalakshmi Srinivasan College of Education, welcome the gathering & to deliver the Annual report. Dr .S. Thangasamy Vice Chancellor, Tamil Nadu Teachers Educations University, Chennai, delivered special keynote address and Received the degree certificate getting the Dhanalakshmi Srinivasan College of Education 278 B.Ed., Students, 21 M.Ed.,Students for the academic year 2013-2014 and 291 B.Ed., Students, 35 M.Ed.,Students for the academic year 2014-2015. Mr .P. Anandhan, Vice Principal representative delivered the vote of thanks. The Vice-Chancellor shared the following words; Teachers need to develop their attitude in higher level towards the teaching profession. In turn students inspire their teachers and increase their attitude towards the profession. Students learn in two ways. First they get life education and next they get class room education. The one who follows these two, shine in their life.